Buy the Book – Nachash's Narrative
ALSO AVAILABLE at:
AMAZON | BARNES & NOBLE |BOOKS A MILLION
Volker Fremuth and MindStir Media are honored to offer you "Nachash's Narrative"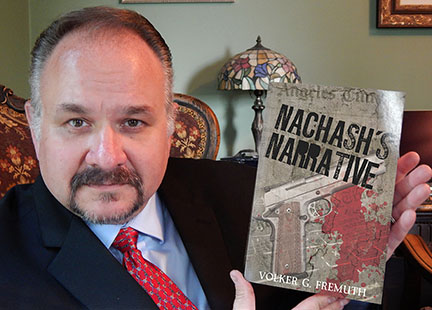 From the ivory towers of Washington DC to the disenfranchised, disillusioned and down trodden; "Nachash's Narrative" explores how easily the populous can be misled, manipulated, poisoned and weaponized at the whims of the serpent's tongue. An exciting and fast-paced read, "Nachash's Narrative" exposes the sinister side of today's political and multimedia-fed environment.
"An exceptional book … broad in scope, deep in discernment, shot through with drama."
–Connecticut State Senator Joe Markley
Readers have already given "Nachash's Narrative" a resounding thumbs-up:
---
★★★★★ A book you will remember as the unrest within the country escalates. The author has set forth a stunning portrayal of activities that do not seem too far removed from a situation that could easily develop in the United States in its present state of disarray… This is a book you will remember and ponder long after reading the last line.
★★★★★ Food for thought. This book is well written with a fast and constant pace, the characters well described, the plot is a tangled network of evil and perdition where only money and power have value, no moral or civic values that survive and the way the author takes his characters along the plot is a little disturbing in a way that will make the reader think.
★★★★★ Fast paced read that will excite you. I'd recommend this book to anyone that loves mysteries, crime stories and books that will leave you questioning everything you know about the world around you.
★★★★★ Fantastically written, this author knows how to paint a picture with words – immersive fiction at its finest. Thought provoking and entirely too believable, the story will have you questioning everything offered by media sources. This is one that will stick with you; I will be recommending this one to everyone I know. Well done!
★★★★ If you enjoy thrillers that are scary because they're so close to reality, then you'll enjoy this book.
★★★★★ An engaging read with some disturbing possibilities to contemplate. Mr. Fremuth blends the potential dark side of real-life trends with intriguing characters & story line – giving us an engaging read with some disturbing possibilities to contemplate.
★★★★★ A thrilling and chilling story of everything that I'd look for in an action book. The suspense in this one is stupendous and you can cut the tension with a knife! The protagonists are very relatable and realistic, well-developed, and well thought-out. This one is worth the read!
We are always looking for more feedback and hope you will give us your honest assessment and invite you to add your review to those on Amazon, Goodreads, Barns & Noble and other great sites.